Country Tortilla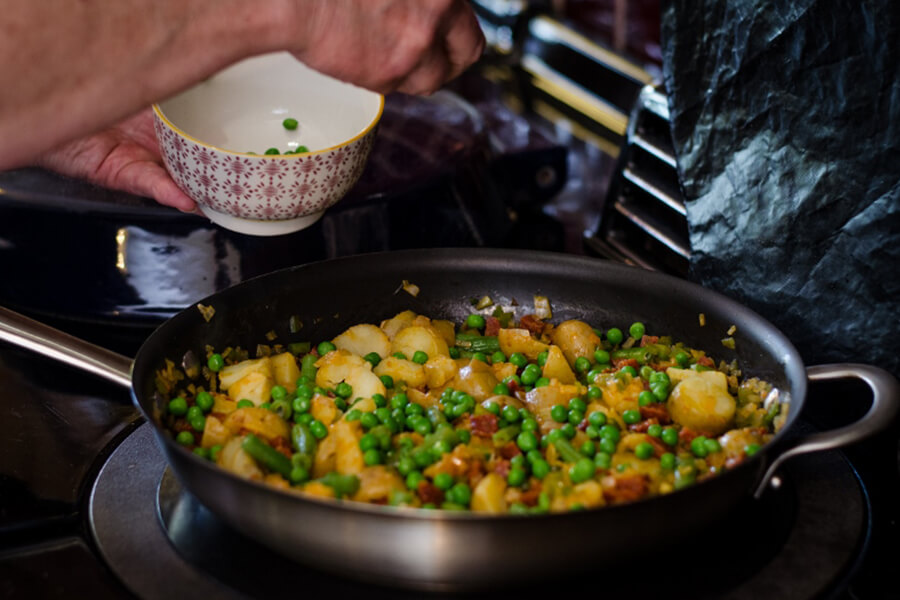 Method
Cook the baby potatoes in the microwave according to the instructions.

Chop the chorizo into 1cm dice; finely chop the onion and the pepper.

Blanch the green beans and the peas in boiling water for 2 minutes. Refresh in chilled water. Drain then pat dry with kitchen paper.
Wash and finely chop the herbs. Whisk the eggs in a large bowl, season with salt & pepper. Set aside.

When the potatoes have cooked and are cool enough to handle chop them into small even sized pieces.

Pre-heat the oven to 200C/400F/Fan oven180C/Gas 6.

Place a good oven proof non-stick frying pan with a base of at least 8" on the hotplate or stovetop over medium heat. Add the butter and oil.

Toss in the chorizo and fry gently for 2-3 minutes. Add the onion, the green pepper and the thyme to the pan, gently soften without colour, stir in the beans and peas.

Add the chopped potato to the pan; continue to cook for 2 minutes.

Add the chopped parsley to the eggs in the bowl, whisk briefly again before pouring over the ingredients on the pan. Allow the eggs to settle around all the ingredients then gently cook for about 3 minutes.

Sprinkle the surface with the grated cheese. Place the pan in the pre-heated oven for approx. 10 minutes until the centre of the tortilla is firm and the cheese topping is golden & bubbling.

Using oven gloves remove the pan from the oven then loosen the sides with a spatula. Slide onto a serving plate Serve with a fresh green salad.
Ingredients
1 Pack of Keogh's Easy Cook Babies
8 Eggs
1X 200g Chorizo Sausage (Sol)
1 Medium Onion
1 Green Pepper
100g Green Beans washed & chopped
100g Peas Fresh (or thawed from frozen)
Small bunch of Fresh Parsley chopped
1tbsp fresh Thyme leaves
Salt & Pepper to your taste
1tbsp Olive Oil
1 good knob of Butter
100g Cheddar type Cheese