Keogh's Potato Pancakes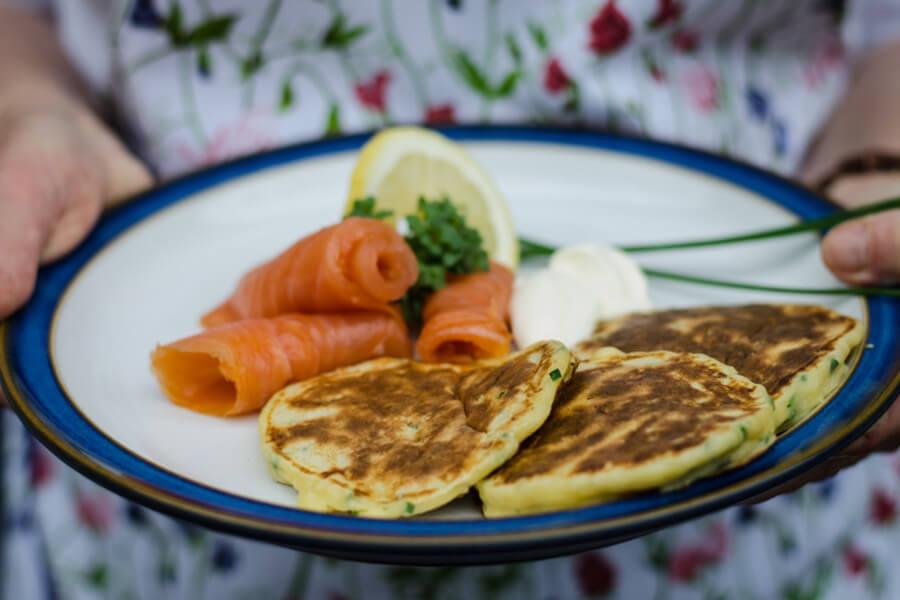 Method
Cook the potatoes in the microwave as instructed then cool until warm enough to handle. Peel off the skin.
Meanwhile, wash, dry and finely chop the chives.

Sieve the flour into a bowl. Mix in the salt and white pepper. Make a well in the centre of the mixture.

Add the egg and half of the milk. Whisk together briefly then pour in the remaining milk. Mix until a thick smooth batter forms.
Melt half of the butter in the frying pan over medium heat.
Grate the potatoes into the batter then stir in the chopped chives.
Using a large spoon drop approx. two and a half tablespoons the batter onto the pan for each pancake. Fry gently until the underneath is golden, (approx. 2 minutes). Turn the pancakes over to cook on the other side. Remove from the pan and keep warm. Add the remaining butter to the pan as needed until all the batter has been used.

Ingredients
1Pack of Keogh's Easy Cook 9 minute Jacket Potatoes
120g Self Raising Flour
150mls Fresh Milk
1 Egg
I Small Bunch of Fresh Chives
50g Butter and a few drops of Sunflower or Olive Oil
Salt & White Pepper