Red Pepper Hummus Dip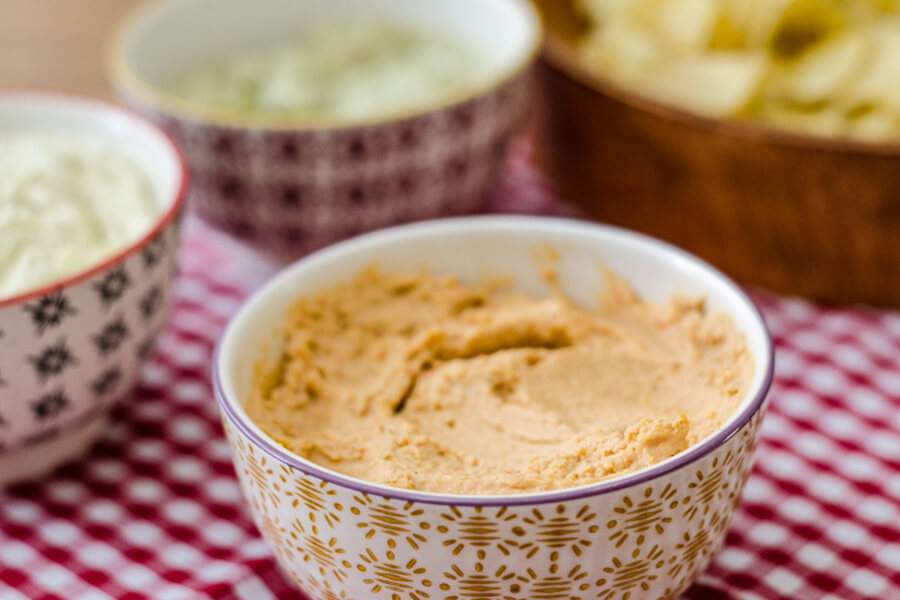 Method
Pre-heat the grill.
Remove the seeds from the red pepper then cut into quarters.
Grill the pepper until the skin toasted but not burned. Remove from heat then place in a small bowl, cover with cling-film or a plate then cool completely.
When cool remove the skins.
Drain the chick-peas into a colander then rinse well.
Place them in a food processor with the tahini, lemon juice, olive oil and the crushed garlic.
Next add the red pepper, the cumin and the paprika. Blend the mixture to a thick paste.
If it is too thick add some of the water until a smooth but non-dropping dip is formed.
Add the honey and some salt. Taste the dip, it may need more honey or salt.
Spoon into a dish, cover then chill in the refrigerator.
Ingredients
1X400g Can of Chick Peas (Garbanzo)
3-4tbs Tahini (Sesame Seed Paste)
Juice of ½ fresh Lemon
2tbsp Olive Oil
1 Red Pepper
50m-75ml Cold Water
2 Cloves Garlic crushed
¼ tsp Salt
¼ tsp Ground Cumin
¼ tsp Paprika
1tsp Honey
Crudités: A mix of any of the following vegetables
3 Medium Carrots, washed, peeled then cut into bite sized batons
1 Head of Celery, washed peeled, trimmed then cut into bite sized boats
1 cucumber, washed, de-seeded then cut into batons
Yellow, Green or Red Pepper washed, de-seeded then cut into spoon sized scoop shapes
Lightly blanched Asparagus or washed Cauliflower or Broccoli Florets